Welcome to Change of Shift, the best of the nursing blogosphere!

Thanks so much for Kim for inviting me to be a host. Actually, she asked me about a year ago. So, I'm sorry that it took so long for me to accept the invitation. You may be familiar with my work on
Grand Rounds
this year and/or
last year
. Hopefully, I can uphold the high quality of this nursing blog carnival.
By the way, if you haven't already, I encourage you to check out
my interview with Kim
on Doctor Anonymous LIVE which is
my internet radio show
. It was a great time and I hope to have Kim back soon on the show. Now, onto the links!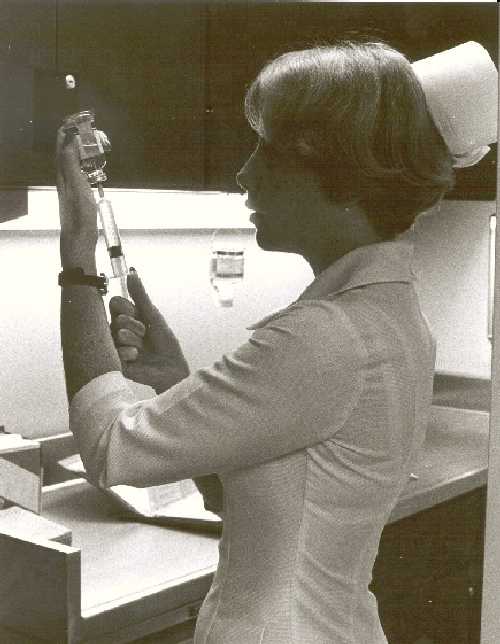 The holiday season can be very stressful, especially Christmas Eve. But, as
ERNursery
shares, even though the ER was packed with people, there was still room for
A Holiday Surprise
.
From the UK,
Mousie
relates a
tragic story
of a eight year old girl and how her death affected her mother. Reading this really made me think about a lot of things. The 20 comments really shows the impact of this story as well.
Emily from
Crzegrl.net
reflects on how difficult it is to be a flight nurse in her post "
Potent Thanks
." She writes, "I am grateful for every moment I am given with those I love." How true.
Do you remember playing the game telephone when you were growing up? Oh yeah, I did - with the soup cans and the wire and the whole thing. How does this relate to patient care? Well,
Rae
tells us in a post called "
Let's Play Telephone
." Phone triage and phone handoff of patients are always interesting. The end of the post shows how one can make a diagnosis just by talking for another 3.3 minutes on the phone.
A Float Floor RN
shares a story of how difficult one shift can be. Did you know that
"Sometimes It Just Hurts To Be In The Hospital
" - especially when you can't get any narcan?
Kintropy In Action
describes
two hypothetical patients
with possible diagnoses and possible treatment plans. He gives three pieces of advice from a parent of a child with disabiliies. He ends this post with a simple statement, "Let's work together, doctors, to keep her well, shall we?" I agree.
When I was a medical student (which wasn't that long ago), I remember that it was a challenge to find a case of C. difficle infection in the hospital for a case study write up. Now, it's so commonplace, that we add the letters MRSA and VRE in this discussion as well.
Heart Matters
reminds us that we as health care professionals and the public need to still respect C. diff and its potential
fatal
complications.
Speaking of
MRSA
,
Fit Buff
writes an educational post defining the term, its symptoms, and ways to prevent acquiring/spreading this contagious and potentially fatal disease.
Getting back talking about medical school, I remember my first day on the ward. It's that stereotypical first day that's depicted on television shows where virtually everybody ignores you and you as a student question why you're even there when you only feel like you're in your way.
The Oracle
is a student nurse now and shares a similar story in this post called, "
What
?"
The docs I work with at the hospital have 10-20 and sometimes 30 years more clinical experience that I do. I get intimidated when I sometimes have to say, "I think that's done a little bit differently now."
Disappearing John RN
asks, "
How do you teach someone who knows more than you?
" The story of a less experienced preceptor and a more experienced pupil.
When you pass on from this earth, have you ever thought of who will sit in
judgement
of you?
Brain Scramble
has and believes that it will not be a deity, but your patients will meet you at the pearly gates -- maybe.
What is high quality health care? This is something that
Life in the NHS
is asking. Even though, as a health care provider, you may hit your number targets for cost and quality numbers, the patient's
perception of health care
is also important.
Did you know that according to the CDC, one person out of one million who are immunized with the flu shot may be at risk of getting
Guillian-Barre syndrome
? The
Pixel RN
discusses this further and also nurse-run shot clinics.
Congrats to
Pixel One, Purl Two
for passing a national certification exam in her specialty. Unfortunately, she's
not feeling the love
from her employer who rewarded her with a huge 1/2% raise. Yeesh!
Kate from the
Alternative Nursing Careers
blog proclaims that nurses can do so much more than pass meds. Do you want to
go beyond clinical nursing
? In these posts, she outlines three steps to get you started. She also describes the career of information technology and how nurses are uniquely qualified for this type of work.
Patient
privacy and confidentiality
are issues that medical professionals constantly struggle with. The
Nurse Practitioners Place
shares some tips on how to keep patients comfortable as they share information with you.
That's it! Thanks so much for checking out Change of Shift: Doctor Anonymous style! Feel free to check out the rest of my blog. Make yourself at home. Also check out
The Doctor Anonymous Show
where we go "Beyond The Blog" to bring you the brightest stars in the medical blogosphere. Thanks Kim for the opportunity to host
Change of Shift
. The next edition of CoS will be December 13th over on Emergiblog. So, get those posts ready!