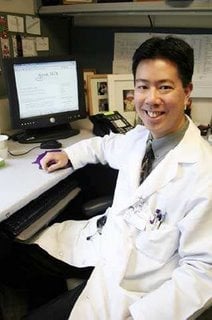 Definitely spread the word, because, this week
The Doctor Anonymous Show
welcomes probably the most recognized blogger in the medical blogosphere - Kevin Pho who of course is the author of
Kevin, MD, Medical Weblog
. On
his about page
, here is how he describes his blog.
This blog aims to pull that curtain back and "tell it like it is." By shining a light on physician frustrations that the mainstream media may ignore, perhaps we can get one step closer to resolving these issues.
Join us on
Thursday, January 17th, 2008 at 9pm Eastern Time
. I have so many questions especially his beginnings in the blogging world. You can also join us in the live chat room or even call into the show to ask Kevin a question.
I do have to tell you that my internet connection at home here has been (at times) shaky. So, we'll see if I have my traditional technical glitch. I'm also experimenting with a new live video site called ustream.tv - so check out
my channel
over there where I will try to simulcast the show. Check here tomorrow for details.